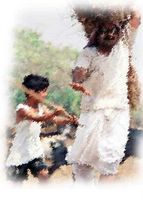 Shwaas

A good friend of mine sent me this movie a couple of weeks ago. I was curious about the movie mostly because I knew that this was India's entry for the Oscars in the Foreign Film Category, but 15 mins into the movie I was hooked because I could see that there was a thoughtful, sensitive and heartwarming story about to unfold. This particular copy did have sub-titles (the movie is in Marathi which I don't understand), but truthfully, I didn't feel the need for subtitles because the acting, the expressions, the way the story was told made use of a universal language.
The movie is based on a true story. A 7-year old boy from the village is diagnosed with a rare form of retinal cancer and the doctor decrees that in order to save his life the boy has to have an eye operation which would render him blind. When the operation is postponed by a day, the little boy's grandfather who brought him to the city from the village for the operation, takes him on a day trip filling his sight with fairs, markets, temples, football games and everything that the boy would never see again.
I enjoyed the movie because although the story was of such a serious nature, the director didn't turn it into a melodrama; it was a story of human relationships especially the beautiful and loving relationship of the grandfather with his grandson.
Go here for the official Shwaas webpage.