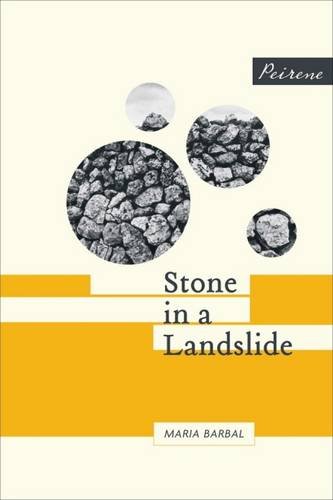 Publication: Peirene Press (2010), Paperback, 108 pages
ISBN: 9780956284013
Today I place in your cupped hands a gem of a book titled "Stone in a Landslide" by renowned Catalan writer, Maria Barbal. The book, which was originally written in Catalan and translated into English by Laura McGoughlin and Paul Mitchell, narrates the story of a 13-year old Catalan girl, Conxa, who is sent to live with her childless aunt Tia in a different village on the Catalan Pyrenees at the beginning of the last century.
The story is not extraordinary, in that, she traces her life at her aunt's house (her aunt and uncle are farmers and although they are comfortably off, the work is physically grueling), her first love Jaume who she later marries, her children, the onset of Spain's civil war and how they were taken prisoners for a while for Jaume's involvement with the Communist revolutionaries and finally her twilight years as a grandmother in Barcelona, hardly needed, rarely listened to.
So like I said, the story itself is not all that different or remarkable, what puts this book at the top of my reading list (and you will thank me if you place it at the top of yours too) is the narrator herself...her voice..her ability to tell a tale and to mark a passage of time with so much credibility, muted emotion, an enviable conciseness (the novel is only 126 pages) and a surprising gentleness and yet, as you read, the story and her emotions are so fiercely felt, it leaves you deeply affected.
Also, Barbal writes the way most of us would write should we look back on our lives....she doesn't bother herself or the reader with the big events that went on around her, rather it is the little everyday events that fill her book. When I look back on my life, I find that I have forgotten so much and the events I do remember are the small, everyday things and if I were to recount those, I am sure I would find many who would relate to what I was saying. And that's what Barbal does...even though she is narrating the story of a woman who lived in a different century with a completely different background from most of us, her way of telling this tale has a certain timeless quality about it which I enjoyed very much.
"Stone in a Landslide" is published by
Peirene Press
in the UK who do a fabulous job of publishing contemporary (translated) European Literature. "Stone in a Landslide" was first published (in Catalan) in 1985.